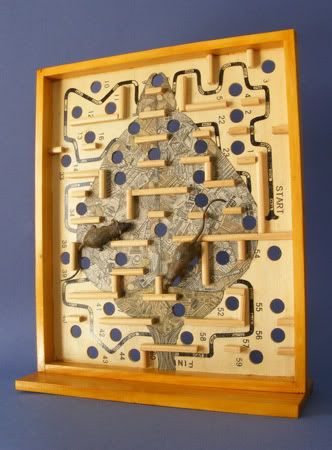 Switch Off to Switch On
paper collage, plastic mice, acrylic paint, enamel paint, wood, shellac,
damar varnish, ink
Switch Off to Switch On, detail
This piece was inspired by a recent development in genetic engineering and neuroscience. When a particular gene CdK5 is switched off in mice it affects a brain enzyme receptor linked to a youthful brain activity in mice.

The sculpture uses a popular children's toy involving a maze and ball. The original path of the ball becomes the path from 1999 discoveries in neuroscience, through to Doogie the GE mouse in 2001, and finally the aforementioned discovery in 2007.
The collage made of hardware catalogue clippings, has been carefully trimmed to fit around the original toy maze. It's in the shape of a mouse brain as viewed from the top.
Exhibited as part of Paper Butterflies
and
The OCD Show

.