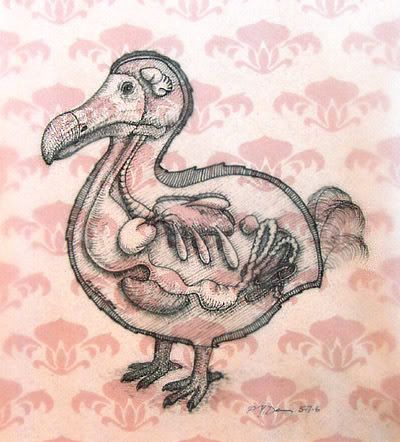 Anatomy of a Loss
ink jet print out (from scanned pen ink drawing on acid free cartridge
paper), on drafting grade tracing paper, paper
24 x 17.5

After seeing the exhibition and owning the book

'A Gap in Nature'

by Peter Schouten, in which the Dodo is prominently featured
, I was inspired to create my own dignified dodo artwork. Historically the dodo has been depicted as a slightly silly bird. Schouten bucked that trend beautifully. The original scientific name for the dodo was

Didus ineptus

reflecting the period lack of respect for the species. It's now known as

Raphus cucullatus

.

This is a reworking of that initial artwork which incorporated a vintage dodo depiction with the old scientific name. As a completely new drawing it is not only more anatomically 'correct' and clear', because I found a better source book showing general bird anatomy, but the hatching and shading is probably the best I've ever done.

Exhibited as part of the Unnatural History Museum.